Full Floating Rotor Kits for all C5 and C6 Base Corvettes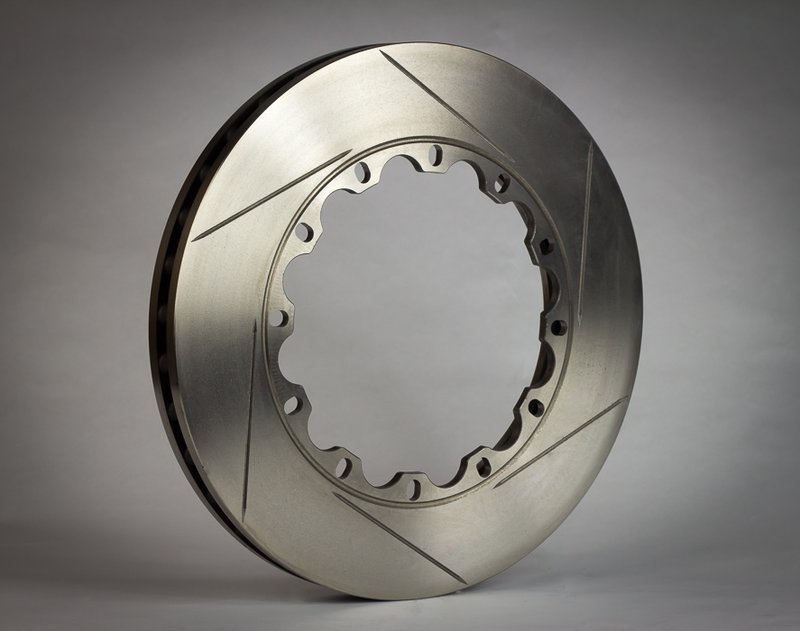 The heart of the kit is the rotor and we've used some of the best available - the DBA 5000. There are many superlatives used to describe these chunks of iron. Kangaroo Paw vanes do a good job of venting the rotor, the clamping surfaces are .400'' thick to hold a lot of heat and provide very long wearing discs, and their heat treatment process further resists warping and cracking. Bottom line is we used a single rotor for the entire season of racing and testing on the #265 C5Z (Full aero, Hoosier A7s, AP Calipers, 1.7Gs of braking) and the rotors look barely used. Replacement rings will be $200 each.
---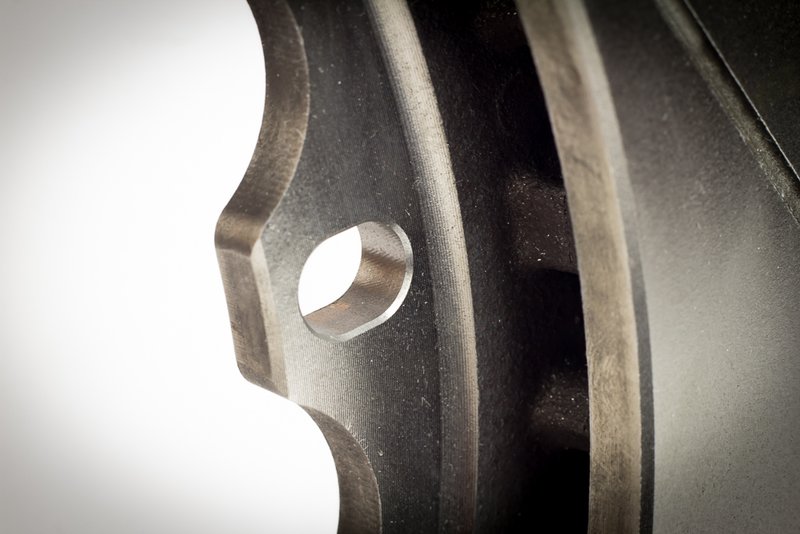 The rotors arrive at AMT with holes and not slots. We machine the slots in one of our Haas CNC mills. Each rotor is probed individually in the machine and in our custom fixture to make sure the slots are machined exactly in the center of the rotor.
The hats are machined in house from US-sourced 6061-T6 aluminum. The source of aluminum does matter as non-US material can often be riddled with cracks and pores in the material. The material used is of ASTM B221 spec which is the most common spec called out when we make critical components for the Defense and Aerospace industries. The hats are black anodized for corrosion resistance and laser engraved for sex appeal.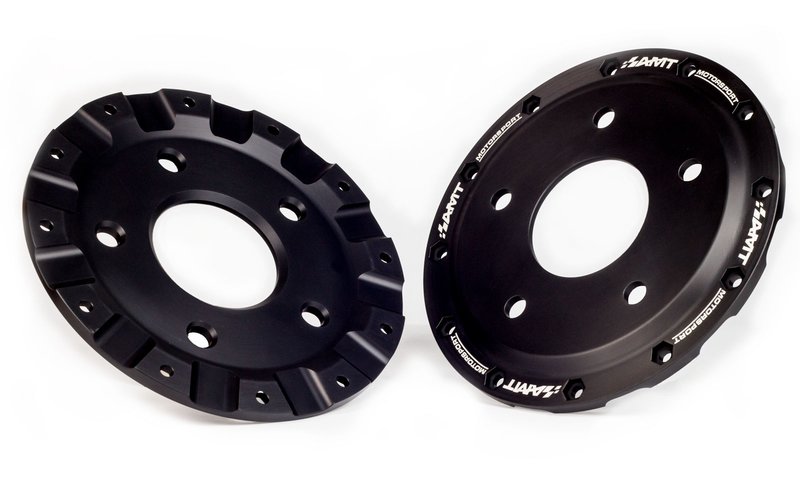 ---
The rotors have hexes machined to accept the NAS bolts. This makes for easier assembly and disassembly using only one wrench, and it ensures the rotors can be used on stock C5 and C6 base calipers.


---
The bushings that ride in the rotor slots and allow the rotor to float radially are made from hardened 17-4PH stainless steel. It's important to use materials for the bushings that have less coefficient of thermal expansion then the rotor material. We've seen kits that come with only steel bushings (rust like crazy) or brass (wears too much and very dissimilar expansion coefficients) Our bushings will never rust and barely wear no matter how many rings you use up.
Close up of included hardware. NAS bolt, 17-4PH bushing, and NAS jam nut. Jam nuts are included with replacement rotors. The jam nuts are labeled as "one time use only." To put that to the test I tightened and removed the jam nuts half a dozen times throughout the season just to see if they'd ever loosen up. Happy to say they did not.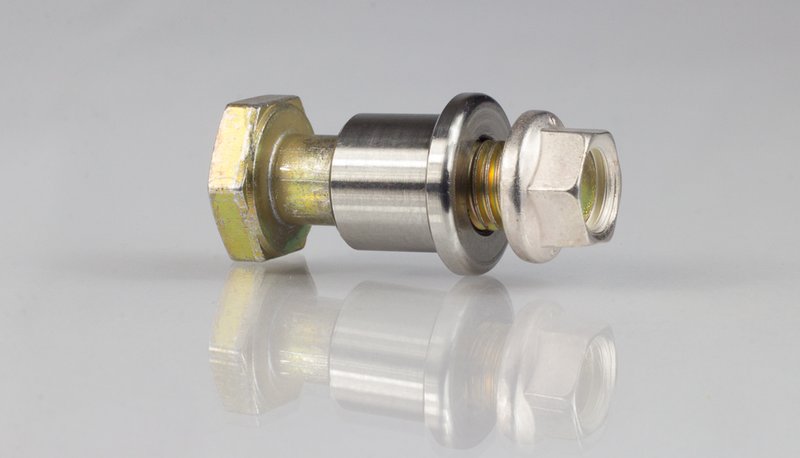 ---
In addition to radial float these rotors also have .030'' of axial float. This allows the rotor to run more true within the caliper. The axial float helps greatly to reduce pad knock back, especially in stock calipers with stock hubs. When vibrations occur (driving over curbs as an example) and the rotors do not have axial float, the rotor disc vibrates from side to side within the caliper - spreading your pads in the caliper and making for a longer pedal and reduced brake pressure at the next braking zone. This is less of a problem in cars with upgraded hubs. There are no springs sold with these kits to reduce noise between hat and rotor. That said, I've been running these rotors without springs at all four corners and never heard any noise from the hat/rotor "rattle." Multi-thousand dollar rotor kits from Alcon and Brembo don't use anti-rattle springs and those are big boy race car parts. If you're looking to run these brakes on your street car we can assemble with anti-rattle springs for a small up charge. There is extra hardware and assembly associated with the anti-rattle springs.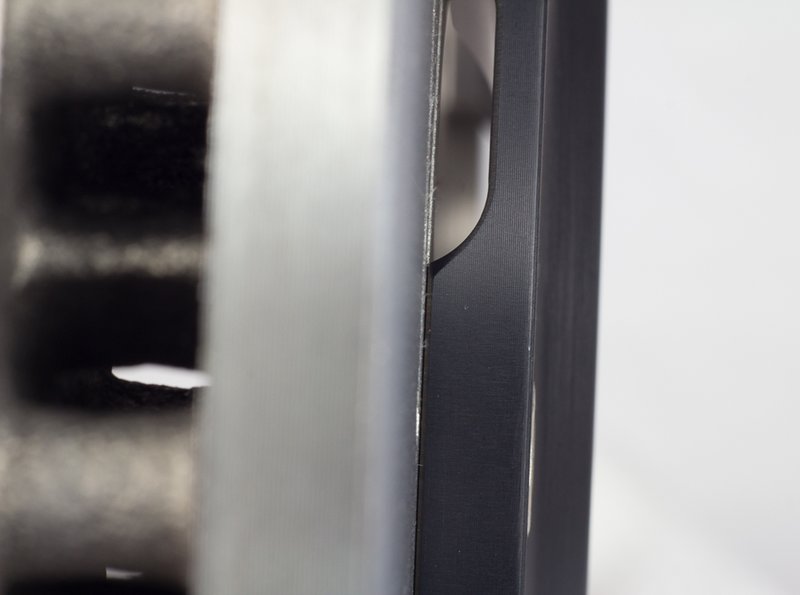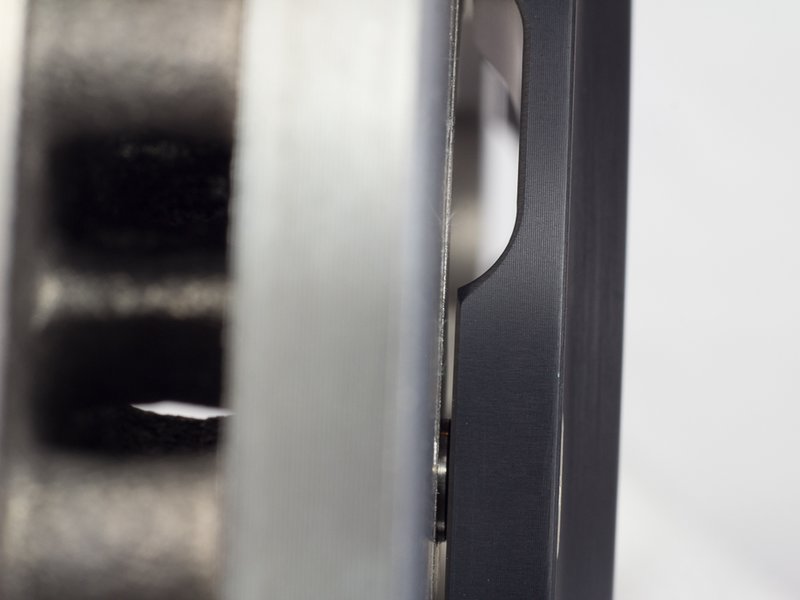 Click here to be brought to product page.